Inspired by the Refinery 29 city itineraries, I wanted to make my own version... these aren't necessarily places I have been once or twice that I think you should check out, but the places I go to drink/shop/eat/hangout on a regular basis. I am a creature of habit. I always appreciate when people blog about the places they frequent - when I was in San Francisco this month I haunted
Annabel's blog
for recommendations and it was awesome & incredibly helpful. You probably don't read this, but thank you Annabel!
1. Barrio Chino - Broome at Orchard in the LES
This place isn't exactly a secret downtown (but still kinda feels like it when you're there), and it can be a huge mob scene any time after 6pm, but if you have to wait I promise it is worth it (and it is never as long as they say it will be). The space is small and intimate, no one is waiting around (they call you when they have a table, so we usually just go to Sweet Paradise down the street and get happy hour) and the drinks are unreal (I get the strawberry vanilla or grapefruit habanero margarita). So is the guacamole. The staff are beautiful and friendly and there is always a nice, fun atmosphere.





2. LaHore Pakastani Deli - Crosby at Jersey in Soho
A hole in the wall cabby stand that I go to at least three times a week for lunch. $6 for a huge dish of rice covered in curried vegetables ($5 for a smaller dish)...I usually get chickpeas with cauliflower or bell pepper, but they have meat options also. It is so delicious and you get so much food for the price. Make sure to get a chai with sugar in the winter too. There are steps outside to the right that are good enough seating.

(photo credit Marianne Rafter)

3. The Lucky Dog - Bedford Ave. at South 1st in Williamsburg
My most frequented bar in the city! A really friendly mixed crowd, really good and diverse beer menu, a big backyard patio and they let you bring your dog if you feel like, so there are always cute things wandering around. It's a very nice break from Union Pool which I go to more than I'd like to admit...(but kinda, sorta recommend too...;)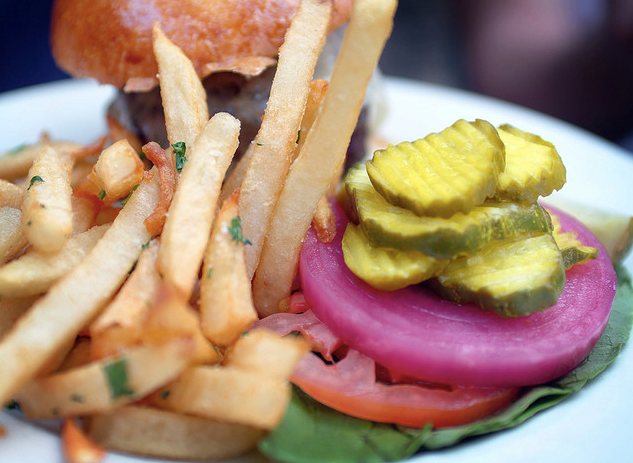 4. Dumont - Union Ave. at Devoe off of the Lorimer L
I don't eat that much meat, especially not red meat, but I could go here a couple times a week for a hamburger. I even had one for breakfast last weekend. I think the pickled onions are what make me love this burger the most, but the restaurant itself is incredibly cute (the inside as well as their pretty back garden - however, insist on sitting in the garden! even if they try to put you inside) and they will serve me a burger any time of the day (they have other good things too!). I also strongly recommend the cucumber & dill cocktail. Nearby (conveniently across from the Lucky Dog) they have Dumont Burger, which is just a little smaller with a condensed menu & just as delicious.



5. Assembly - Ludlow street below Houston in the LES
I love Assembly. They have a great mix of amazing vintage (the kind of vintage that doesn't scream vintage) and contemporary labels for girls and guys in one really cool space. Last winter I also scored a black over-dyed quilt that is one of my favorite pieces in my apartment. The girls that work there are really sweet and helpful, and there are so many things that are shockingly affordable. They have a linen heavy, perfectly unisex house label and also carry designers like Risto, Arielle DePinto and A Détacher for shoes. (also check out their new all-vintage store, Everybody's Going to Heaven around the corner on Rivington & Norfolk.)
Part 2 coming soon...what are your favorite spots in the city?/Wherever you're from?