There are way too many places I could recommend, and I feel like I should pick a neighborhood to focus on when I do these posts, like, here is what you should do for a fulfilling day in Park Slope! But I am just gonna stick with my real favorites and unfortunately, they're all over the place. Anyway, here we go! Part 2: Only food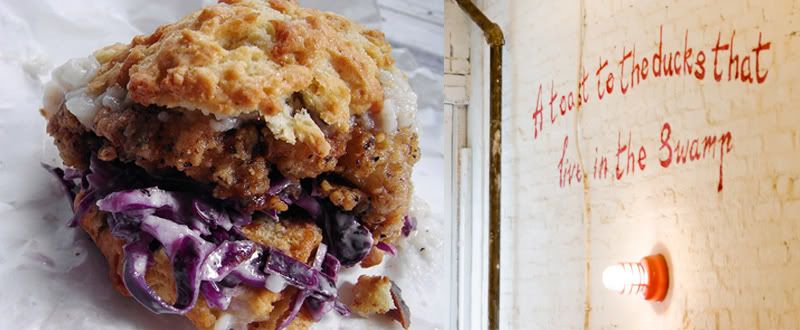 1. Cheeky Sandwiches - Orchard St. Between Canal and Hester St. (closes at 6pm)
Holy shit. I love Cheeky's. It's a hole-in-the-wall New Orleans style sandwich shop on Orchard St with about 5 things on the menu served & made by a very charismatic & super-model handsome Louisiana export in a black tie and thick black glasses. It's been open for less than a year and already has a cultish following. I always get the chicken sandwich on a biscuit with gravy and a bag of salt & vinegar chips (I ate one for breakfast this morning!), but everything is soo delicious. I mean, look at that picture, are you not salivating?
2. Joy Indian Restaurant - Flatbush Ave between St. Marks and Prospect Place
I used to live next door to Joy when I lived in Park Slope and I became embarrassingly addicted to it (they called me "Aloo Matar Gobi girl"). It isn't especially exciting inside, but by far its the best Indian I've had in the city. I went here for my birthday this year and it was perfect for a big group of people & super cheap (byob!). I highly recommend the trek out to the 7th Ave Q just to go here (maybe coordinate with a trip to Brooklyn Flea?)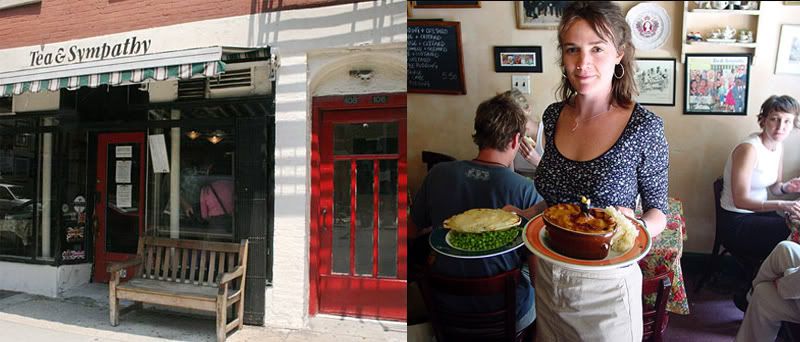 3. Tea and Sympathy - Greenwich Ave between Jane St and West 12th St
This is an old standby for my boyfriend and I on wintery days to get super delicious comfort food and big pots of tea. Tea and Sympathy is a teeny English restaurant on a stretch of Greenwich Ave in the West Village home to a few other very-charming British establishments (I have yet to try A Salt and Battery next door for fish & chips, but I hear it's also really good). I always get the Chicken and Leek pie with mashed potatoes (and spend the extra two bucks or so for the onion gravy!) and Luke goes for the Steak and Guinness pie. Ahhh yum.
4. Northeast Kingdom - Wyckoff St. in Bushwick
My boyfriend and I have had more date nights here than anyplace else in the city. It's dark and intimate, and somewhat far off the beaten path (Jefferson L stop) in a neighborhood that at night appears desolate. When I go it makes me feel like I've stumbled upon a back woods tavern in the middle of nowhere. Definitely comfort food (I always get the chicken pot pie) and they have a great selection of specialty beers and wine.