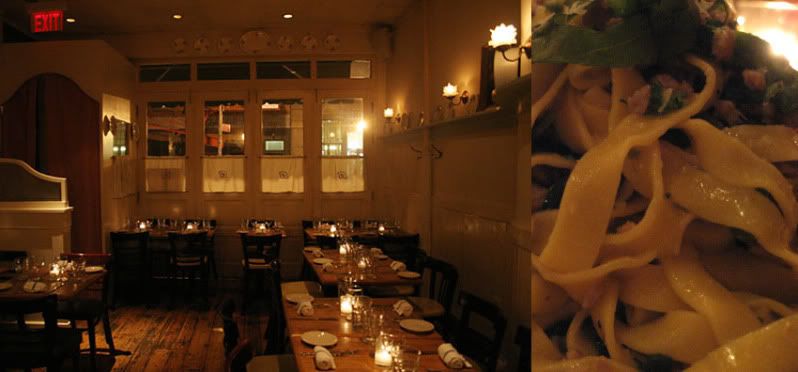 1. Bianca - Bleecker St. between Elizabeth St. and Bowery

I don't know how this missed my previous two NYC posts. It might very well be my favorite restaurant. My friend Rachel took me here for the first time last year on a double date and Luke and I have been many times since. I don't know how this place stayed under my radar for so long since I work right by it and it is right in the heart of NYU-land. Bianca is a very authentic Italian restaurant on Bleecker St. and the food is unbelievably tasty. I always get the Tagliatelle Alla Bolognese. And it is CHEAP. Like, really cheap! You can get a nice bottle of wine for $25 and the entrees are mostly under $10. There can be a wait, but they send you to the bar next door and the very charming maitre d' will come and find you.



2. TOP HAT - Broome St. between Ludlow St. and Orchard St.
I remember walking home to my old chinatown apartment one night and walking past this place. It was like this perfect store, with perfect paper goods and ceramics and all kinds of beautifully designed exports, that also advertised toboggan rentals out front. It's one of those places you can't not get something every time you go. And to entice you more, there is a huge selection of wooden bird whistles! I once waited over an hour for my friend Tyler to finish up trying every single whistle (don't do that). Perfect gifts for kinda everyone.



3. Brook Farm General Store - South 6th between Berry and Wythe in Williamsburg
Another fantastic store I have been going to a bit lately! I found their website online this summer, before I realized they had a shop in Williamsburg. They have a very nicely edited selection of kitchen wares and blankets, baskets and other home things that are on the inexpensive side. Definitely check out their website, it is great for gifts, but I really recommend going to the shop. (photos via Sunday Suppers)
More favorites:
Incredible drinks at moody, speakeasy themed Hotel Delmano in Williamsburg, Delicious and inexpensive breakfast at Brasserie Le Barricou on Grand St., very neighborhoody McGolrick park in Greenpoint, and in my opinion, the best East Village Indian restaurant, Brick Lane Curry House on 6th st near 2nd Ave